Michelin Starcross 6 Medium Hard Tyres Available in POULTON-LE-FYLDE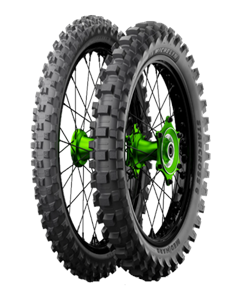 Starcross 6 Medium Hard
Improved Traction
Long lasting grip
Born for podium results
Improved Traction (1)
Adaptive design provides grip and control on intermediate terrain
Long lasting grip (2)
MICHELIN Starcross 6 is the 1st MICHELIN motocross tyre with Silica technology that maintains the tread block shape over time.
Born for podium results
MICHELIN Starcross 6 Medium Hard was developed alongside pro riders and is ridden in World and National championships.
Michelin Adaptative Design
Specific positioning of the tread blocks on the 3 zones: central, intermediate and lateral associated with a specific shift of these zones.
One goal: To offer an exceptional grip/traction/longevity compromise.
Product Specifics
Recommended pressure is dependent of the terrain, weather conditions, the motorcycle power and the rider's level of skill.
• Front 0.9 bar (13 psi) (min 0.8 bar / 11.6 psi)
• Rear 0.9 bar (13 psi) (min 0.8 bar / 11.6 psi)
MICHELIN Starcross 6 Medium Soft, Medium Hard and Hard (front and rear) are reversible for a second life.
Designed to win!
(1) Adaptive design provides 16% more traction compared to MICHELIN StarCross 5*
(2) The introduction of Silica technology in this motocross tyre increases durability by 19% compared to the MICHELIN StarCross 5**